0.25mm BGA pcb assembly with turnkey OEM PCBA service
Product No.:2021811192633
PCB board thickness:1.6MM
Layer count:4L
PCB material:FR4
Copper thickness:1OZ
Surface treatment:HASL LF
Soldermask:Green
silkscreen:White
D.K:/
D.F:/
Min trace/gap:/
0.25mm BGA pcb assembly with turnkey OEM PCBA service

For full turn-key, we take care of the entire process, including manufacturing of Printed Circuit Boards, procurement of components (100% original) , PCBA Testing , continuous monitoring of quality and final assembly.

Flexible Volume Assembly Alternatives:
Prototype PCB Assembly

Low-Volume, High Mix PCB Assembly

High-Volume PCB Assembly

Consigned & Partial PCB Assembly

Full Turnkey PCB Assembly

Cable & Wire Harness Assembly

Box Build Assembly Services


The BGA technology uses the under-side of the IC package for connection or pin-outs, instead of using the edges of the IC package. This results in High Density Interconnect (HDI) PCB boards, light weight and small size product dimensions. The interconnections are arrange in form of "array" underneath the package to form the grid of pins. This results in BGA IC taking less space on PCB board, increasing the performance and implementing more functionalities in PCBs.More info about Ball Grid Array (BGA) and Types.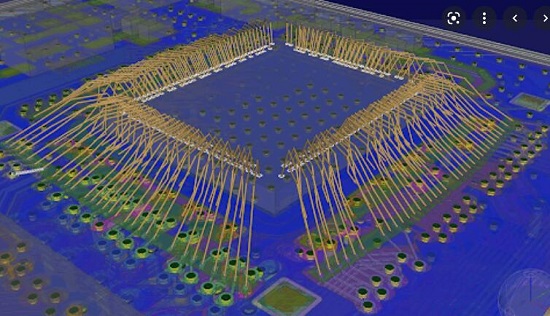 · Our advanced equipment in SMT assembly
We have a full automated SMT production line to ensure high accuracy and high yield of the assembly. Our latest equipment includes automated solder dispensing machines, automatic placement machines, reflow oven, X-ray and AOI inspection systems, and so on.
· Our BGA inspection process
BGA packages are complicated to inspect the solder quality because the solder ball is under the chip. Traditional optical methods cannot judge if there are detects or cavities in the soldering joints. If there are BGA components in SMT assembly, we usually use a combination inspection method of electrical testing, boundary scan, and automated X-ray inspection to improve detection accuracy.
· Our BGA assembly capabilities
BGA soldering traditionally is done through an automatic process because it needs precise control. PCBGOGO can build high-quality and reasonable yield rate BGA assembly PCBs for you. The minimum pitch size of BGA we can assemble is 0.25mm. We have these types of BGA assembly service:
Plastic BGA (PBGA)

Ceramic BGA (CBGA)

Micro BGA

Micro Fine Line BGA (MBGA)

Stack BGAs

Lead BGA and leadless BGA
Now, BGA assembly technology has been skillfully mastered by most manufacturers. As a PCB manufacturer with years' experience, Hopetimepcb provides BGA assemblies above industry standard with strict factory inspection. It is advisable to do BGA assembly for your PCBs from experts, Hopetimepcb must be your best choice.