Rogers microwave RO4350B pcb with gold plated surface treatment RF circuit
Product No.:202041291946
PCB board thickness:1.2MM
Layer count:2L
PCB material:RO4350B 20MIL
Copper thickness:1OZ
Surface treatment:ENIG 2U
Soldermask:Green
silkscreen:White
D.K:3.48
D.F:0.0037
Rogers microwave RO4350B PCB with gold plated surface treatment RF circuit
Rogers RO4350B PCB application

PCB with RF (radio frequency) are an increasingly used technique within the Printed circuit board industry.
--A high frequency printed circuit board with works above 100 MHz.
--Works above 2 GHz radio frequency is a Microwave circuit board.
RF PCBs are used in different applications such as remote controls(wireless controls) smart phones,sensors, security,Amplifer,Radar etc.
New technologies make more and more use of these RF applications.This asks for a manufacturing according to high quality standards and
choosing the right RF materials depending on the application.
Specific for RF PCB
*High-frequency RF PCB are mainly used in radio and high-speed digital applications, such as 5G wireless communications, automotive radar sensors, aerospace, satellites, etc. But there are many important factors to be considered when manufacturing high-frequency PCBs.
*The material we used are Rogers RO4350B / RO3003 / RO4003 / RO3006 / RT/Duroid 5880 / RT5870 and etc.PTFE F4BM /Arlon / Isola / Taconic /Teflon material ect.
*Dielectric constant ranging from 2.2 to 10.6
*The main products are 3G/4G/5G smart antenna PCB,Power amplifier printed circuit board,Low noise amplifier electronic board,Divider circuit boards,duplexer PCB,Filter circuit board.coupler PCB and other radio frequency (RF) communication products.
*The main RF PCB types are Rogers / PTFE high frequency / copper clad / microwave / polytetrachloroethylene / Teflon / Taikangike / Yalong


Rogers RO4350B PCB Project photo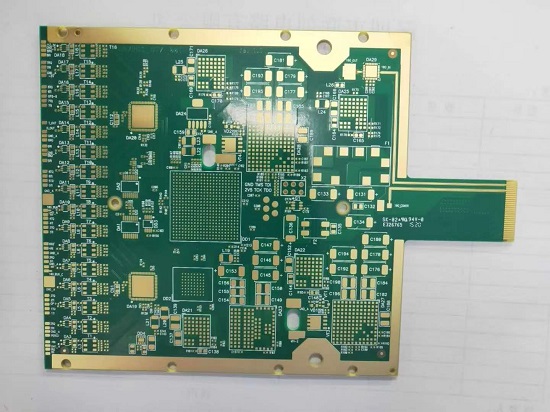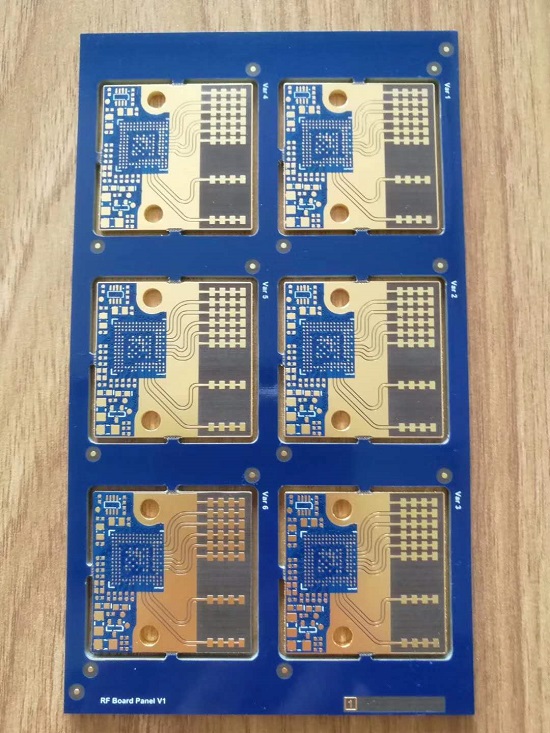 What kind of material is commonly used for an RF PCB?
RF(Radio frequency) PCB usually needs to select a high-frequency board to carry the circuit. The main considerations in selecting the appropriate high frequency PCB material are:
1.Manufacturability,For example, how many times the lamination performance, temperature performance, etc., CAF/heat resistance and mechanical toughness (adhesion) (good reliability), fire rating;
2. Various performances (electrical, performance stability, etc.) that match the product Low loss, stable Dk / Df parameters, low dispersion, small coefficient of variation with frequency and environment, small material thickness and glue content tolerance (good impedance control), if the wiring is long, consider low-roughness copper foil. Also, the high-speed circuit design needs simulation in the early stage, and the simulation result is the reference standard for the design.
3. Timely availability of materials
The purchase cycle of many high-frequency boards is very long, even 2-3 months. Except for the conventional high-frequency boards RO4350, the high-frequency sheet needs to communicate well with the manufacturer in advance and prepare materials as soon as possible;
4. Cost
It depends on the price sensitivity of the product, whether it is a consumer product or communication, medical, industrial, military application;
5. Applicability of laws and regulations
It must be integrated with environmental protection regulations of different countries to meet RoHS and halogen-free requirements.
Among the above factors, the speed of high-speed digital circuits is the main factor for PCB material selection. The higher the circuit speed, the smaller the PCB Df value should be. Medium and low-loss circuit boards will be suitable for 10Gb / S digital circuits; plates with lower losses will be suitable for 25Gb / s digital circuits; ultra-low-loss boards will be adapted for faster high-speed digital circuits, and its speed can be 50Gb / s or higher.
From the material Df:
Df is between 0.01 ~ 0.005 PCB material sheet is suitable for digital circuits with a limit of 10Gb / S
Df is between 0.005 ~ 0.003 PCB mateiral is suitable for digital circuits with an upper limit of 25Gb / S;
Df does not exceed 0.0015 PCB mateiral sheet is suitable for 50Gb / S and even higher speed digital circuits.
Common high-speed plates are:
Rogers: RO4003, RO3003, RO4350, RO5880, etc.
Tai Yao TUC: Tuc862, 872SLK, 883, 933, etc.
Panasonic: Megtron4, Megtron6, etc.
Isola: FR408HR, IS620, IS680, etc.
Nelco: N4000-13, N4000-13EPSI, etc.
Dongguan Shengyi, Taizhou Wangling, Taixing Microwave, etc.
Of course, there are many other high-frequency materials, such as Arlon (acquired by Rogers) and Taconic, which are all old-fashioned RF microwave plate factories with guaranteed performance.

*Please send inquiry to [email protected] directly!!!